Our egg juggling challenge will give you everything you need to make this Easter egg-ceptionally fun! All you need to do is upload a picture or a video of you juggling with 2-3 eggs and you could win our Easter hamper full of goodies!
Don't worry, you won't be the only one with egg on your face, we asked some of our colleagues to lay an egg too. AKA give it a go themselves! Keep tabs on our Facebook page to see the smashing results.
But back to the most important part of the challenge: the prize! Our Easter hamper includes six eggs-traordinary inventions all designed to deliver an eggs-tra special Easter! (Yes, every single word beginning with "ex" will begin with egg in this post…. #sorrynotsorry)
Rollie Egg-on-a-stick Cooker
We've discovered a new and eggs-tremely fun way to cook eggs! With its revolutionary vertical cooking technology, the Rollie Egg-on-a-stick cooker prepares hot, fluffy and perfectly cooked eggs every single time. Honestly, we are not eggs-aggerating – this gadget is cracking!
Egglings
Egglings contain everything you need to grow your own herbs and plants. Simply crack the top of the egg by tapping it with a spoon, place the Eggling on its terracotta drip tray, add water to the pre-sown peat mixture and place it in a bright spot. Egg-citing, right?!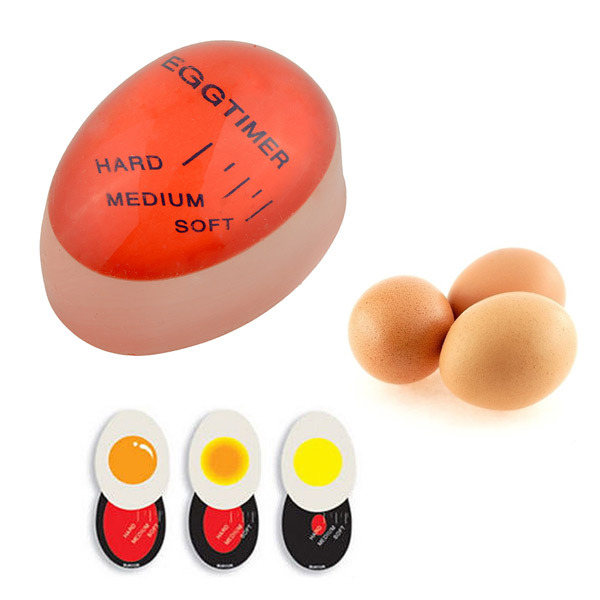 Colour Changing Egg Timer
Now, this is an egg-ceptional timer! To start with, it's possibly the only egg timer that doesn't actually use time to let you know when your eggs are done. Instead, as the eggs cook, the timer changes colour, which is perfect for families who have varying eggs-pectations. Soft, medium or hard, you can easily prepare varying degrees of runniness at the same time. If you still can't cook the perfect egg with this gadget, then you shouldn't be cooking at all (sorry).
Vonshef Silicon Egg Moulds
Wave goodbye to boring eggs and transform the way you eat your breakfast with this egg-cellent multi-coloured set of egg moulds. It's incredibly easy to turn plain poached or fried eggs into works of art. Simply crack your egg, separate the yolk and white if necessary, pour into the mould and watch your eggs take shape as they cook. It's that simple!
Fred Egg-A-Matic Chick Egg Mould
What came first, the chicken or the egg? Egg-A-Matic provides you with the eggs-istential answer.. both! Just like the egg moulds above, this little gadget makes food fun. All you need to do is boil your egg, cool it down, place it in the mould and leave it in the fridge for 15 minutes. Crack open the mould and the chicken and the egg are born simultaneously. Mind = blown.
Yolkfish egg separator
All those wannabe master chefs out there will appreciate the complexity of separating an egg! If you've not yet mastered the knack, this is an invention that you can't egg-nore! Whether it's the yolks or whites you need for your recipe, this clever invention is the missing ingredient! It's time to separate the brave from the chickens.
Made it through all the egg puns? You'll be pleased to hear we're all out. Now all that's left to do is enter our competition to be in with a chance of winning all of the spectacular prizes above!
This competition closes on April 11th, 2017. For more information on the competition, please see our T&Cs.
Tags: Competition, Win